Iranian fashion history from yesterday till today
Did you know about Iranian fashion history?
Isn't it wonderful? How people's way of clothing differs from town to town, country to country? Even in a particular area.
it will never stay the same, people's taste of fashion grow as the civilizations become more and more advanced but clothing always follows a particular set of principles that are based on the area's culture.
Fashion history
For instance imagine Iran, this wonderful country with one of the greatest histories and the most hospitable people. Hijab has always been a part of Iranian Culture and it hasn't changed since the governorship of The Great Cyrus.
In those times, Women mostly wore long heavy skirts which fully covered their legs and A piece cloth on their head that covered their hair and their chest in addition to their casual clothes.
Men wore long-sleeved robes which fully covered their bodies and wearing a hat was optional for them but they mostly did.
This covering evolved as the time passed and different trends came and went. With the rising of Qajar and then Pahlavi Dynasty, some kings such as Reza Shah tried to force people not to wear Hijab, this action was wholly disliked by almost everyone. So the Hijab Turned from mandatory to optional for women all over Iran for some time.
with the Islamic revolution Things completely changed and Obligatory Hijab was back to the system again.
Hijab has a whole new face now, people wear different colors and different styles and it is changed into a beautiful part of Persian fashion that belongs specially to ladies.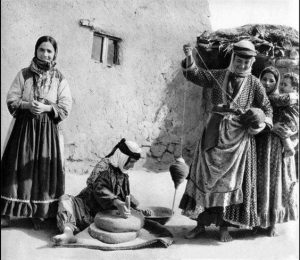 Persian People always believed that covering themselves will lead to self-respect and increases their self-worth. It's nice to know this belief hasn't been excepted for men.
As you walk down the Streets of a City in Iran, you barely observe men wearing shorts or tops, They dress differently in different occasions But covering has always been important.
This shows that Hijab isn't restricted to females only as we observe that full covering of hair and neck isn't obligatory for them anymore. even their sleeves usually cover three forth of their arms.
Recent Iranian Fashion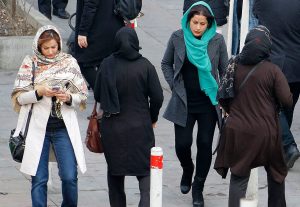 Let's me give you an image of recent Persian fashion. This year hot as it is most women and men started wearing cotton based clothes.P in stripe bell-bottom trousers is growing more and more popular between women as the weather gets hotter and hotter.
What's even more popular is Buttonless Mantos with a crop top underneath worn with Shawls and Scarves. Men are likely to wear shirts that are made of figured cotton cloth that match their jeans or cotton pants.
Light pastel colors are seen everywhere for both genders but still, there are some people who refuse the trends and like to wear the usual spring and summer colors.
My whole point of this text was to have a whole review on Iranian fashion history and show its limitations and also progresses through the time So that you will have a touch of Persian fashion and as you decide to enter this lovely country for the first or maybe the second time, you know how you should get dress as a woman or a man.
What to wear?
I would like to tell all those who'd like to travel to Iran's attention to this part:
First of all, depending on what season you're traveling to Iran, you might want to check the air conditions and temperatures to know what kind of clothes you gotta pack in your suitcases.
For men, it's not so different from other countries except for the fact that wearing shorts is not so common among Iranian men.
For women, it's so important to have something to cover your hair with, whether it's a scarf, shawl or maybe a hat.
Wearing dresses or skirts and ripped jeans are not allowed but you're free to choose other types of trousers. For covering your upper parts of the body you might like to wear a Manto or a long shirt. It's optional.