a memorial from Qalat
I mentioned this post from my friend blog from USA about Qalat: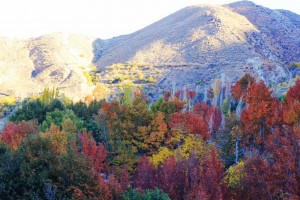 **We're currently enjoying the end of 2012 with my family in Oklahoma before we move to San Diego in January. Here, I get back to my last few posts about my six-week backpacking trip through Iran.**
One of my major goals in blogging about Iran is to show our readers the real Iran — the one not depicted in the news and the one so few are familiar with. I mean, would you have ever guessed early traces of wine came from Shiraz? And that Iran is home to a poetic, laid-back city like Shiraz? Well, my open love letter to Shiraz continues now
Qalat. This ancient village located 45 minutes from Shiraz is a popular weekend getaway for Shirazis and for good reason thanks to mountains, waterfalls, pomegranate trees and hiking trails all to be enjoyed while sipping exotic teas, drinking sharbats (sweet herbal drinks with health benefits) and smoking hookah.  I mean, it doesn't get much better than barbecuing kebabs next to a waterfall. There are even a couple of small modern art galleries!