about Qalat part 2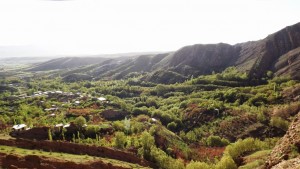 if you like to see around Shiraz or change your mood and not feeling good in the city crowds, there is an option of half day tour.
In this tour, we will visit one of the ancient-natural villages with different climate (usually 5-10 degrees cooler than Shiraz), history and culture just a little away from Shiraz.
Qalat village is located 20 km from Shiraz in a valley surrounded by Zagros mounts with waterfall, river, forests and beautiful pomegranate gardens and antique houses. In this village which roots back to the 6th A. D, Muslims, Zoroastrians, Jews, and Christians have lived peacefully. We visit an old mosque, a church, bazaar and old houses which take you back to a strange architecture from ancient Eastern Roman villages!