Iran extends visa-on-arrival to 30 days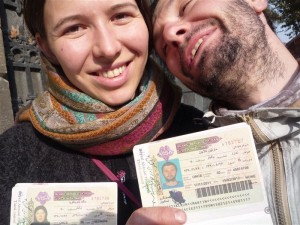 Iran has extended airport visa validity from 14 days to 30 days as part of its plans to boost tourism industry in the country.
"Iran's cabinet passed a new resolution, extending Iran Airport Visa or Visa On Arrival (VOA) to 30 days for foreign tourists", Head of Cultural Heritage and Tourism Organization Masoud Soltanifar said in a cabinet meeting on Sunday.
Visa validity for foreign tourists travelling to Iran has, heretofore, been 14 days and could be extended to another 14 days in case passengers wish to stay more, on arrival at the some Iranian airports.
Electronic visas will also be available within one year, ISNA Agency News quoted Soltanifar as saying.
VOAs, at present, are issued at the Imam Khomeini airport in Tehran, and also at the airports of Mashhad, Shiraz, Tabriz and Isfahan.
"Based on new Cabinet's resolution, all airports having joint tourist border with Iran are obliged to issue visa. It is an important step to boost tourism industry and to facilitate entry of tourists to Iran." Soltanifar added.
Recalling the foreign investors' interest to invest in Iran over last years, Soltanifar declared that some foreign investors had waited for nuclear deal and termination of sanctions to invest in tourism. However, Muslim and Arabic countries have not so far limited themselves to sanctions and started their career in the holy cities.
According to a report published by the Iranian media, citizens of Turkey, Lebanon, Azerbaijan, Georgia, Bolivia, Egypt and Syria can travel to Iran without visa.
Under the new visa requirement regulations, citizens from these countries can stay in Iran without visa from 15 to 90 days.
Holders of normal passports traveling as tourist can obtain a visa on arrival for a maximum stay of 30 days, at the following airports:
According to the Vice President of Iran and Cultural Heritage and Tourism Organization Chief Masoud Soltanifar, the visa on arrival duration may be extended if needed.
Facility is not applicable to nationals of:
Afghanistan
Bangladesh
Canada
Colombia
India
Iraq
Jordan
Kazakhstan
Kyrgyzstan
Pakistan
Somalia
Tajikistan
Turkmenistan
United Kingdom
United States
Uzbekistan
These nationalities are required to apply for an Iranian visa at an Iranian embassy/consulate prior to their arrival in Iran.