Where can Find conglomerate rock in Iran?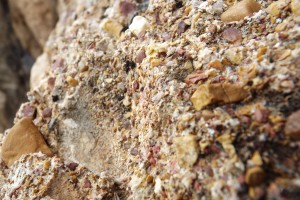 Maybe you are geologist or you are interested in Geology I have said this because there are something different in the Qalat and It's the mountain in shape and actually in material that was built with Conglomerate stone  As you know it is a sedimentary rock formed from rounded gravel and boulder sizedclasts cemented together in a matrix. The rounding of the clasts indicates that they have been transported some distance from their original source (e.g. by a river or glacier), or that they have resided in a high energy environment for some time (e.g. on a beach subject to wave action). The cement that binds the clasts is generally one of either calcite, silica or iron oxide. The matrix can consist solely of the cementing material, but may also contain sand and / or silt sized clasts cemented together among the coarser clasts.if you decided to have trip for this reason I 'll be able to create Itinerary for you
it's just needs you to Send email or call me ,just do this and i'll tell you the details.