a good day with azerbaijan tourists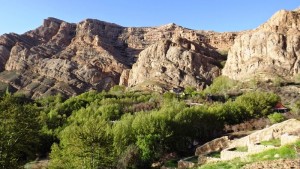 Today was awesome! I went to the mountain with 3  Azerbaijan tourists, We started from the old village and headed to the top of the mountain, It's Spring here and everything looks much more beautiful, Thanks to the mother of nature. After two hours of mountain climbing and passing the top of the mountain we arrived at the other side of the mountain, It's called "Pas Ghale" means "back of the castle".
Your eyes can not believe it and I mean it! I can't find a word to describe the beauty of "Pas Ghale", They Were also excited and I could see that in their eyes.
We ate our breakfast there, It was a traditional Shirazi meal, called "Ash Sabzi" which means "vegetable soup", a mixed of special vegetables, pea, meat,… After the breakfast, we sat there and talked about the history of Iran while enjoying our traditional tea and the view.
We were ready to come back and decided to do that via a different route. There were many seasonal beautiful waterfalls,  you could hear relaxing sounds of nature.
Suddenly we saw a snake, luckily I had my camera and I could take some photos of it. After an hour we arrived at a Spring it's not seasonal and the water is really cold. local people call it "Tu Bisu", We drank some water and continued on our way, After a few minutes we were in the old village, the place we started our climbing.
That was our half day program to the Ghalat mountain. You can also enjoy the beauty of the untouched nature of Ghalat, If you like.